Retractable Awnings offer a tremendous opportunity for homeowners to expand their living space beyond the walls they live within, especially in Southern California. Our products enable our customers throughout Los Angeles, Orange County, and more to enjoy the beauty and fresh air their yard offers—giving them more time and occasion to enjoy that space with those they love.
Being able to relax and savor the outdoors with proper shade control creates positive experiences and memories that our customers cherish. Once they understand what's possible, they are often excited about moving forward with th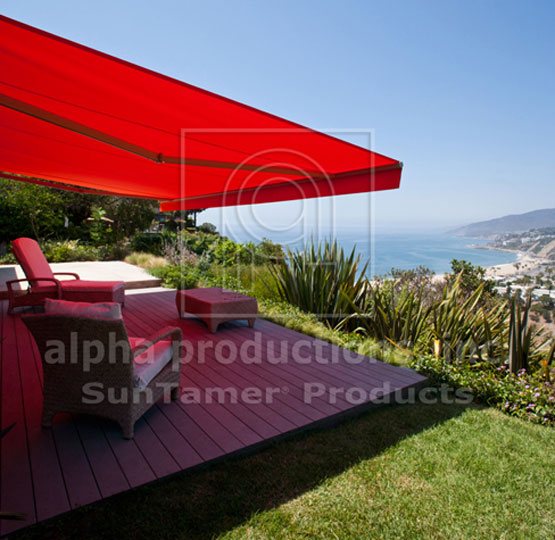 e purchase of a SunTamer®  system.
We have been refining our craft for decades now; experience through our local and national dealer network has taught us what our customers need and value. We've earned their trust by providing the highest-quality  systems available anywhere. We proudly manufacture every component of our awnings in our Los Angeles factory and stand behind them 100%.
When our customers invest in a SunTamer® system for their home, they do so because they trust in the quality of our product, our people, and the professional installation. We will proudly install our retractable awnings in Los Angeles, Orange County, and throughout Southern California.
So go ahead, take back your backyard with a quality awning from Alpha Productions.
For more information about our products please view the individual product pages below, and contact us today!
Retractable Patio Awning
Gallery
Retractable Lattice/Solarium Awning
Gallery
Retractable Window Awning
Retractable Track Guided Vertical Awning
Retractable Cable Guided Vertical Awning
Retractable Free-Standing Patio Awning